Nation First Transportation Workforce Project (NFTWP)
A project by Kenneth McClenton
OpenHeartCloseCase, M2Transportation, NationFirstTransportationWorkforceProject, CFPIP, InnerCity, Jobs, VocationalTraining, IntegratedServices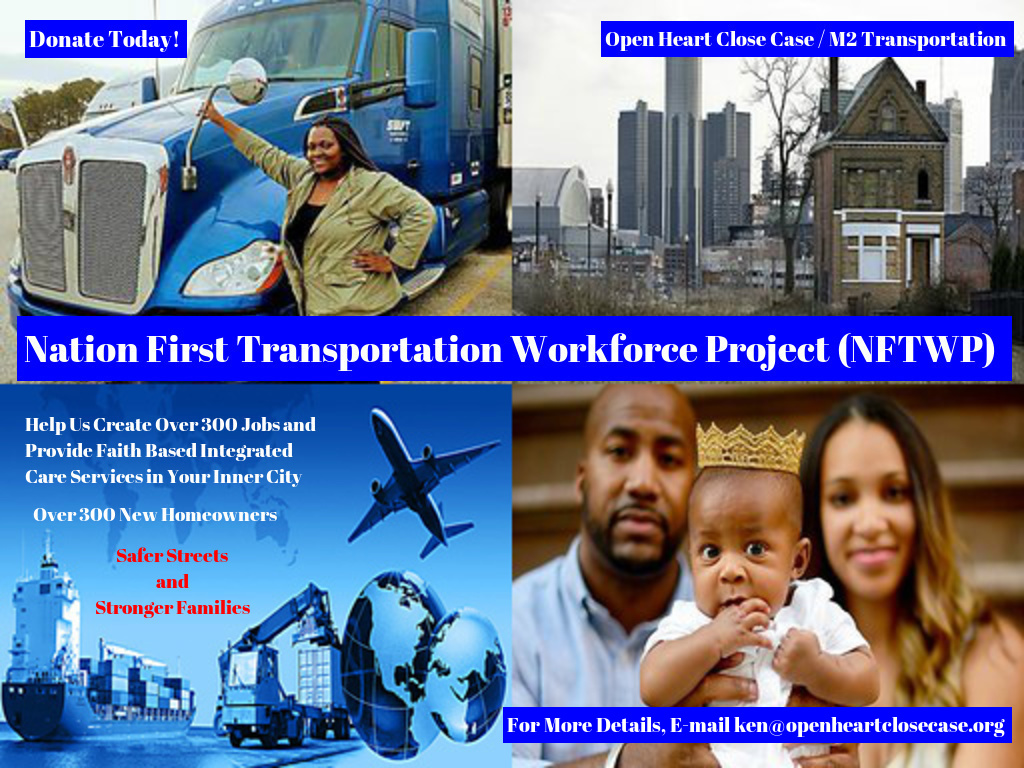 When Our Daughter, Charnice Milton, Was Murdered in Washington, DC, Our Family Was Acquainted With the Horrors of Inner-City Citizen and Economic Injustice. We Recognized that the Only Thing that Would Close Her Unresolved Murder Case Was to Change the Hearts of the People of the Inner-City. We Formed Open Heart Close Case (OHCC). OHCC Subscribes to the F.E.E. Principle. All Substantial Change in Society Requires Opportunities in Faith, Economics, and Education.
As A Journalist, Charnice Lived and Reported from Impoverished and Violent Communities East of the Anacostia River in Washington, DC. Her Personal Ambition Was to Serve Her City and Its People to the Fullest of Her Abilities. Her Courageous Life Inspires Us to Sacrificially Give for the Betterment of Our Nation and Its People.
Our Nation's Renaissance Begins When Our Inner-City Citizens Are Not Reduced to Government Dependency and Employment Hopelessness. A Changed Heart Begins With A Sowing of Faith, Economics, and Education. We Believe that Inner-City Public Safety Improves When the Faith Community Takes An Active Role in Promoting Small Business Growth, Employment Creation, and Vocational Training. When the Weak Are Made Strong, the Nation Thrives.

Our Newest Change Heart Initiative Is Nation First Transportation Workforce Project (NFTWP), a Private Faith-Based Creation of Over 300 Transportation IndustryJobs and Small Businesses in Each of America's Inner Cities. Michael Heckman, M2 Transportation, LLC Chief Operating Officer and National Transportation Academy (NTA) Chancellor, Partnered with OHCC President Kenneth McClenton to develop a faith-based vocational education training program that will provide students with pre- and post- integrated consumer and social services that will promote stronger families and safer streets in the Inner-City. At-Risk Students Will Train to Become Either Commercial Licensed Drivers (CDL) or Obtain Posts in Management and Administration, including Commissioned Sales Managers, Dispatchers, Secretaries, etc. Individuals, without a College Degree, may Earn from $35,000 to $200,000 Annually. We Will Work With Each Family for 18 months through Our Financial Literacy and Housing Counseling Training to Make Each Home Buyer Ready. NFTWP Believes that the More Vested Our Citizens Are in Their Neighborhoods then, the More Safe and Productive Those Neighborhoods Will Be.
We and Our Inner-City Faith Partners will organize resources, implement vocation education strategies, and execute outreach systems and intake tactics that will stabilize neighborhoods by promoting stable lifestyles, marketable employment skills, financial literacy skills, and public safety support activities. OHCC Needs Your Help to Make Certain that Our Students Have An Opportunity to Thrive and Change the Hearts of Their Neighbors. We Need Your Help to Raise $50,000 to Provide Scholarships for At-Risk Students and $50,000 Start-Up Administrative, Training, and Transportation Costs.
We Have Scheduled Our First Training Class for Monday, June 11, 2018. We Have Set Our Fund Raising Deadline for Wednesday, May 30, 2018.
Your Donation Will Make It Possible to Liberate A Family Out of Poverty By Teaching Individuals to Fish Rather Than Waiting For A Fish to Be Given.
For More Details, Please Contact Ken McClenton, OHCC Chairman and President, at [email protected] or (202) 660-1329 Ext.6.
Also Connect With Me Here:
---
Post your prayer for this project
Kenneth McClenton

3 month ago

Please Pray Unto God For:

Each Inner-City that NFTWP Is Ushered Into by the Living Spirit of God

Each of the Students and Their Families for Liberating Power from Poverty, Addiction, and Hopelessness

Each of Our Teachers and Trainers, Our Administrators, and Partners for Success and Expansion of the Kingdom of God

Each of the Pastors and Ministers that serve the Kingdom By Offering Their Gifts in faith to Those Within NFTWP

Each of Our Donors and Supporters That God May Bless Them Sevenfold Over For The Risk That They Have Taken In Blessing NFTWP

Each of the Leaders Within the Inner-City that Faithfully Choose to Establish Our Project in Their Region of the Kingdom of God

Each City's Population that, Whether They Participate or Not, That They Come Into A Personal Relationship with Jesus Christ and That the Good News Is Spread Vibrantly