Send Ken to the NOT-FORGOTTEN!
A project by Ken Verheecke
Music, Ministy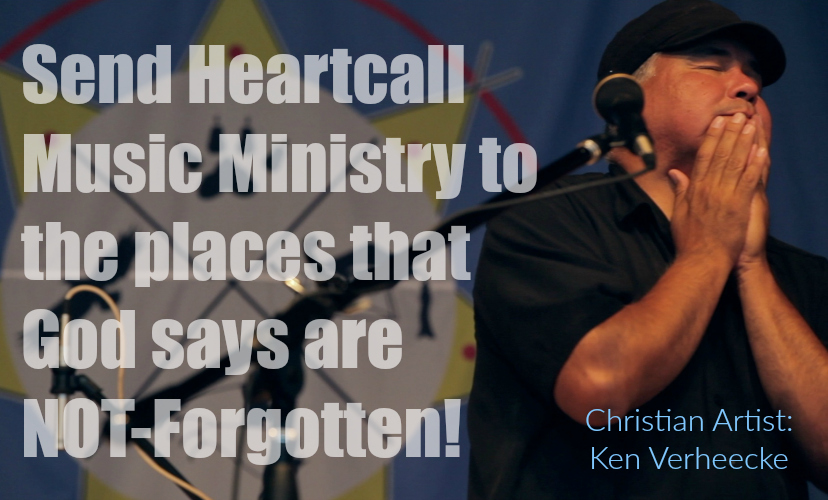 This last week-end I attended a Leadership Conference for Church Leaders and Pastors.

I was visiting with a Pastor who is a friend. I was told... "we want you to come to our church so badly... but we cannot afford it. We have no money." My heart sank... and my first thought was, THIS SHOULD NOT happen!!!

The relaity is this... many churches and ministries are not able to afford our ministry... and we operate on a "Love Offering" basis.

I'll never forget another small church I visited awhile back. A pastor approached me with a $50.00 check and tearfully asked me to "please come back" knowing that the check I was being handed wouldn't even cover our expenses that week-end of ministry.

Heartcall Music Ministry is my vocation and calling. The ministry exists because of the gifts we recieve through our concert ministry... BUT, I believe God is calling us to go to the NOT-FORGOTTEN. Those aren't able to afford even a love offering.

Partner with us to make this happen! We have set a financial goal to send us to as many places as possible for this year of 2017! Thank you so much!!!

"But I say this, He who sows sparingly shall also reap sparingly, and he who sows bountifully shall also reap bountifully. EACH ONE, AS HE PURPOSES IN HIS HEART, LET HIM GIVE LET HIM GIVE; NOT RELUCTANTLY OR UNDER COMPULSION, FOR GOD LOVE A CHEERFUL GIVER. And God is able to make all grace abound toward you, that in everything, always having all self-sufficiency, you may abound to every good work; As it is written, "He scattered; he has given to the poor; his righteousness remains forever." Now He who supplies seed to the sower, and bread for eating, may He supply and multiply your seed, and increase the fruits of your righteousness you being enriched in everything to all generosity, which works out thanksgiving to God through us." (2Co 9:6-11).

Also Connect With Me Here:
---
Post your prayer for this project