Long ago and very far away, there lived a wise old artist who loved to make beautiful things. He lived in a house at the edge of the sea. He was so alone that he began to talk with his creations as he made them. Because of this, they started to come to life. He was a kind old man, and his creations, by watching him, came to reflect his kindness and his beautiful heart.
One day, the Artist started forming a little boy out of a lump of clay. He wanted this project to be the best he had ever done. As he worked, he started talking to the little boy, telling him all he had planned for him.
As the little boy started to come to life, he was confused. Who was he? Why was he here? But as he began to listen to the soft voice of the Artist, he began to understand. He patiently let the Artist chip away parts of his lump. The Artist was refining him slowly.
-"The Artist," Act 1, Mercy C. McCulloch Hasselblad

Yet you, LORD, are our Father. We are the clay, you are the potter; we are all the work of your hand.
(Isaiah 64:8)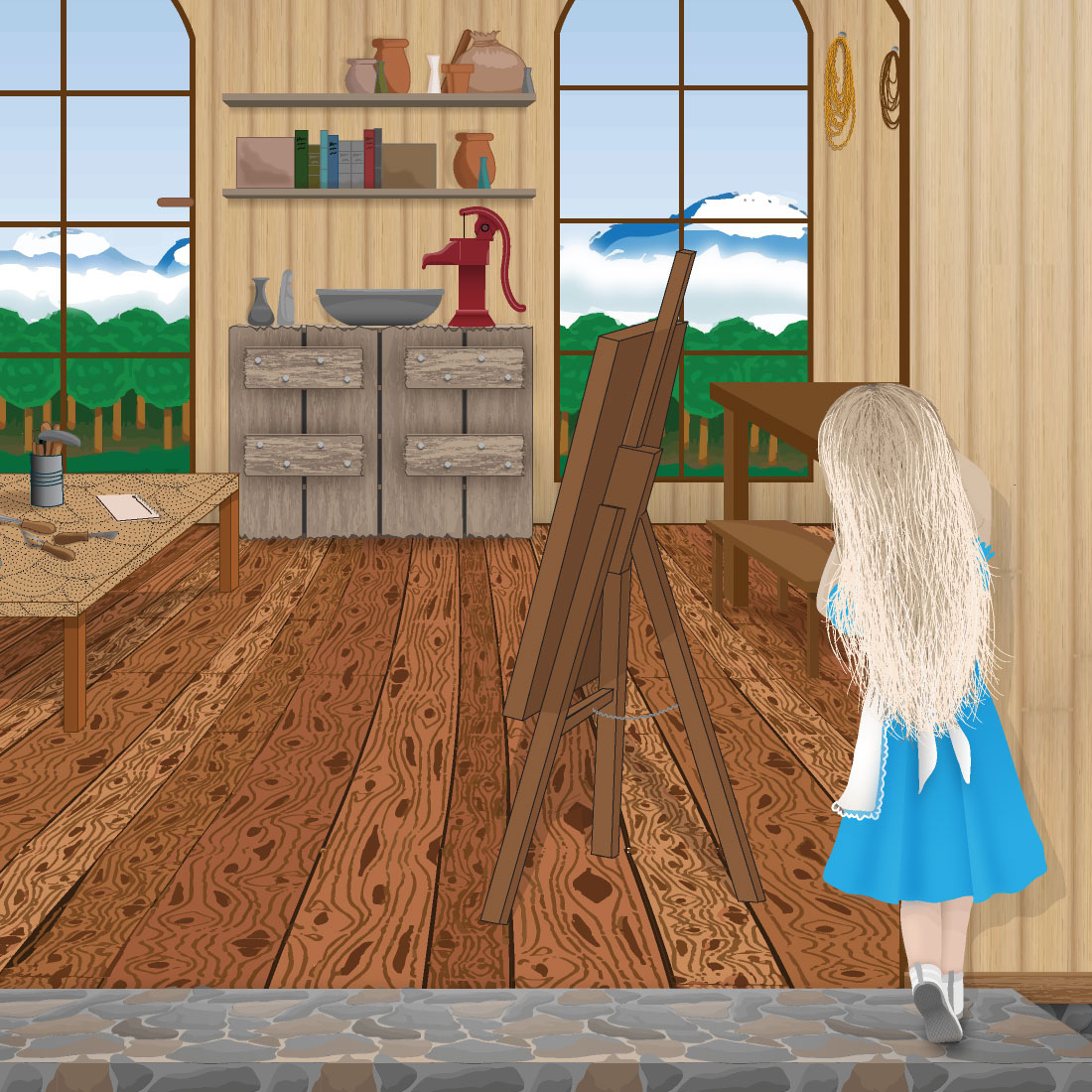 This book is about the Artist forming a new young creation. The little boy wants to be like the stained glass on the wall, because it is so beautiful. But the Artist teaches him that he formed him a certain way for a reason, and if the creation will simply follow the Creator, he will be able to form something exquisite.
When I started college, I was faced with a lot of questions. I wanted to serve God with my life, but did that mean I had to be a missionary? Did that mean I had to give up my artwork, my passion for telling stories with a message? God taught me, through His word and His people, that He makes all of us for different reasons. We are, after all, parts of a body. Some of us are better at certain things than others. Not everyone is a head. I see this confusion a lot. You don't need to be a pastor in order to love and serve God. He made each of us uniquely and, when we surrender to Him, he can form us into something truly exquisite, into what we were meant to become. This story simply illustrates that lesson. My desire is to show others that they were created by the most amazing Artist for a purpose. It was no accident, and they can use their gifts to love and serve God.
I've been writing ever since I was 14. I've written about 5 books, but this is my first picture book. It combines my love for visuals and light, in particular, with my love for stories and encouraging others in their faith. This story is very personal to me, and I strongly believe that others need to hear it, as well.
Self-Publishing vs. Traditional Publishing
I've decided to self-publish this book for the experience and to have a little more control over the process and the profits. The profits will go into developing further books, media, and supporting me and my husband on the mission field. We live in India currently, helping ministries with tech and media issues, and teaching promising young media evangelists. For more information on our ministry, please
click here
.
It all comes down to cost. If we can raise the money to print 1,000 copies, it's a fourth of the cost of an on-demand printer. On-demand printers will charge about $20-25 to print a picture book like this, because it's color and the pages have to be set and everything. It's not economically viable for them to get all set up to print, and then only print 1 copy.
I have a local Christian printer here in India who gave me a quote of $2 a copy. I'm factoring in other unexpected costs, which is why I'm asking for $3,000. But it would also be a huge blessing to raise money over-budget for traveling expenses. We are planning on making a trip back to the US next year sometime (depending on multiple variables, including how much we can raise), when we will deliver the books and do various promotional events to sell the rest of the books.
The main way, of course, is supporting me financially through this site, showing your support by pre-ordering the book, and in general showing your love!
Another way is through using your own connections to get us book signings at your local bookstore, book signings at local churches, daycares, etc. If you have an idea for marketing this book or have a connection with a group of people who would be interested, that would be a huge help for selling the book!
We are also a huge believers in prayer. Simply committing to pray for this book and for us, for wisdom as we move forward, and for God's provision, that would be an amazing help.
If you'd like to follow the progress of the book more closely, I will be posting daily on
Instagram
. I will also be starting a
FaceBook page
specifically for the book.
Also Connect With Me Here:
---
Post your prayer for this project
Anonymous

more than 2 years ago

I've suddenly found myelsf at a bit of a crossroads in my work life and your simple but powerful post couldn't be better timed! And as for the book, it's gone on my wishlist. Love it! xx
Anonymous supporter

2014-09-22 06:00:31 -0700