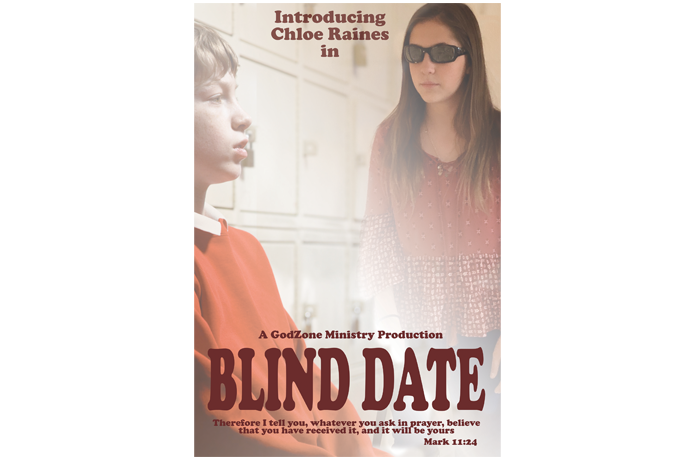 We are very close to having all of our needs covered for Blind Date. However, We are still $1500 short on equipment rentals and set expenses. We would appreciate it if you would consider the perks and help us reach out goal. Thanks, Stuart
Blind Date is a Faith based movie that reflects God's power through trust, faith and healing. Synopsis: A tragic automobile accident left 16 year old Robin Carter totally blind and now she has grown tired and weary of the special school for the blind and decides to take a leap of courage and attend public school again.
Robin meets Theodore on her first day, who has been encouraged by the principle to assist her until she learns her daily routine. Theodore quickly befriends Robin as he shows her around school.
As the school prom nears, the two friends decide to attend as one anothers date. However, another unexpected event that is equally important to them is on the same night and they must make a decision that could change Robin's life forever.
Blind Date is a heartwarming story of faith, hope and healing. A film that will bring tears of joy and overwhelming hope to audiences around the world.
Also Connect With Me Here:
---
Post your prayer for this project
Other Ways You Can Help

Posted 6 month ago

0 of 10 pledges have been made for this volunteer request

Other Ways You Can Help

Posted 6 month ago

0 of 10 pledges have been made for this volunteer request

Other Ways You Can Help

Posted 6 month ago

0 of 10 pledges have been made for this volunteer request

Other Ways You Can Help

Posted 6 month ago

0 of 10 pledges have been made for this volunteer request

Other Ways You Can Help

Posted 6 month ago

0 of 10 pledges have been made for this volunteer request

Other Ways You Can Help

Posted 6 month ago

0 of 10 pledges have been made for this volunteer request

Other Ways You Can Help

Posted 6 month ago

0 of 10 pledges have been made for this volunteer request
Logged In