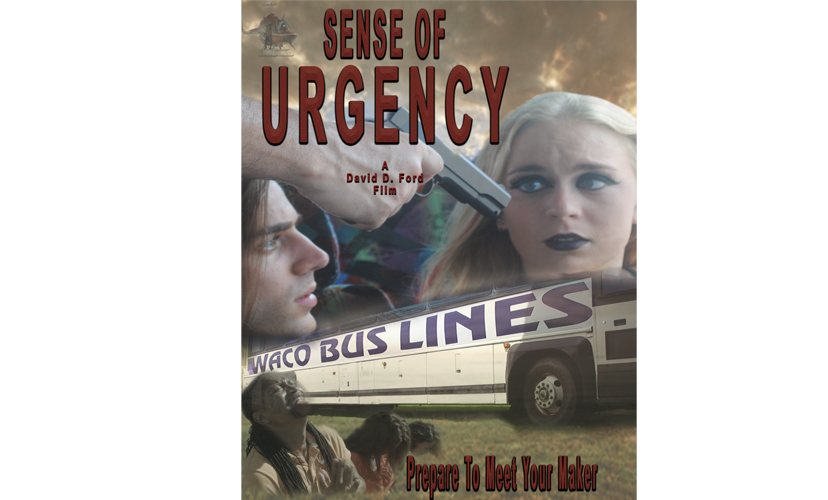 LOG-LINE: When a teen from a wealthy family learns that she is adopted, Izzy hires a private investigator to find her birth parents. When a meeting is set up, Izzy hops on a bus to go meet her mom, but when the bus is taken over by hijackers, Izzy soon discovers her captors are using her as a ransom. Through it all, Izzy meets a variety of passengers, some who encourage her through faith in God and others who are conspiring against her.
Help Needed!!! We are editing the "Sense Of Urgency" movie and need help covering the cost. Can we count on you to make a small contribution to this awesome movie? This movie is sure to touch many hearts with a story of Forgiveness, Redemption & Salvation. With you help, we hope to have Sense Of Urgency completed and ready for release by late spring 2017. Please join us in getting this movie edited and in front of audiences around the world. Mark 16:15 (NLT) And then He (Jesus) told them, "Go into all the world and preach the Good News to everyone.
Visit our website at Little Cherub Entertainment.
Check out this video about the production of
Sense Of Urgency
.
Also Connect With Me Here:
---
Post your prayer for this project
Stuart Miller

over 1 year ago

Dear Heavenly Father,

We come to you today to give all praise and glory to you for being with us and allowing us to produce Sense Of Urgency. It has been only by your grace that we have gotten to this point. We trust in you and ask that you continue to bless us with the finances to finish out the editing phase of this film. Lord we ask that you bless each and every cast and crew member who worked tirelessly through the scorching hot August heat in Texas. We lift up the many sponsors and contributors who so generously supported the production phase. Lord we surrender this film to you and pray you can and will use it to draw those who watch it closer to you.

In Jesus precious name, Amen