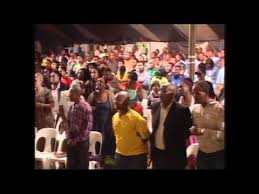 Nkosinathi Kinqa knows the saving power of Jesus Christ. Growing up in the Eastern Cape of South Africa with poor parents who never attended school, Mr. Kinqa parents taught him to love the Lord since he was a child. He gave his life to Christ age the age of 24 and had not looked back.
After a series of three dreams, Nkosinathi began preaching. In the first dream, he saw himself rushing into a big village at the foot of a huge mountain to preach the word of God. The second dream showed him erecting a large white tent where a crusade was going to be held. The third dream showed an extremely large tent in his home town that he was told that he was to preach here.
Save the Sinners Ministries was started out of his obedience to God. Nkosinathi travels long distances on foot and walks from house to house preaching the word of God. Many people have been saved but he feels that he could do more.
"I feel that I am limited by the lack of resources. I feel that if I can have the necessary resources, I can win more souls for God." , says the founder of the ministry.

You can help Save the Sinners Ministries win more souls for God.
Your donation will go towards purchasing basic electronic equipment needed for reaching more people. The equipment includes microphones, keyboard, speakers and a panel van needed for travel.
Your delay in giving could result in a soul not being saved. Please donate today and help Save the Sinners Ministries.
Post your prayer for this project
Anonymous supporter

2014-12-02 06:02:39 -0800