Help us Launch 12 Legions Ministries, A Ministry for Military Members
A project by Lisa Viles
Mililtary, MilitaryFamily, Deployed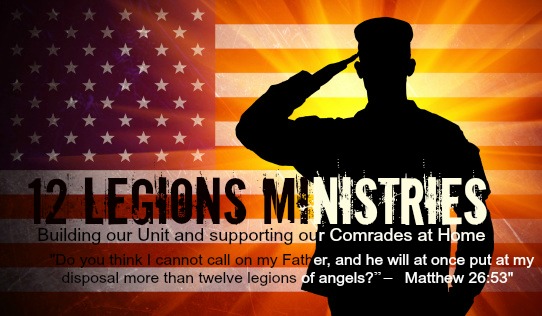 OUR VISION

Our Main focus is within our Military community, we want to provide Active and Non-Active members and their families with Spiritual wellbeing and Support; As well as our Non-Military (Civilian) community. We want to give our Service Members the sense of being at home, in a brotherhood, a sisterhood; to be able to build a unit at home by being in an environment that will understand your struggles, as for most of our Members have been there too. The hardest parts about the Military is going in and getting out. We want to be there to support you, guide you, help you and pray for you the whole way through. Whether you are religious, non-religious or just not sure, we are here for you!

OUR GOALS

12 Legions Ministries strives to be involved actively for our Military Members. Starting in Grand Prairie, Texas; we plan to branch out to other local areas near Military bases to provide both Active and Non-Active members a place of Worship that will understand the importance of feeling like you belong. Our Dream is to be able to eventually give our members;

·         Military Mission Teams

·         Military Prayer Teams

·         Military Youth Program (Providing our Military Youth with a fun, positive environment and help with studies, and a big sister/big brother program)

·         Military Support Group (Helping Soldiers and their families with any comforts where they need, assisting with job search/resume help, getting back into the Civilian lifestyle)

·         Military Spouse Support Group (Helping spouses and significant others go through deployments)

·         Community Outreach 

·         Soldier Relief Fundraisers – (Helping Soldiers in need with resources and fundraising to help with their wishes)

·         Care Packages to Deployed Units

 

No matter where you are, you will always have a place to call, you will always have a voice to talk to. You will always have a place to feel welcomed, you will have a brother, a sister, a mentor that understands what life in the Military is all about.




We do not cater to just One Religion, but yet we recognize and respect the difference of All Religions and Spiritualties. Religion has been taken out of context throughout the Centuries and there are many different versions of belief. Whatever you believe, is your personal relationship with God; the Creator. Whatever you interpret through our Worship is between you and HIM.

 

We do not Judge.

We do not question.

 

We only give encouragement, spiritual guidance and hope

with support and open arms to you and your Family.




Help us Launch 12 Legions Ministires. So many Soldiers and their Families need your support!

 
Post your prayer for this project